I'm writing this review as I fly on a plane and I'm feeling guilty about the amount of CO2 that is emitted when flying – on average, flying contributes about 10 times as much carbon dioxide to the atmosphere as a similar journey by train. And no, I didn't buy carbon offsets for this trip….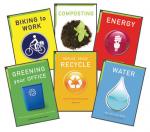 The guilt is being fostered by this week's read, a Green Series, published by Chelsea Green Publishing. I read four in the series, all co-written by Jon Clift and Amanda Cuthbert: Energy; Water; Greening Your Office; and Climate Change. Also in the series: Reduce Reuse Recycle; Composting; and Biking to Work.
I liked how easy the series is to read, many bullets points and quick facts, as well as their, "If you do one thing" pointers and the way they have the, "spend nothing save less," and spend little, save more." On the negative side, the books don't have any real background on the issues, but the authors do have a list of resources at the end of each book.
I'm going to leave you with this thought, since many who are pushing environmental responsibility often go to far as they live further and further off the grid. (Let's get a grip. It is not in our country's best interest to revert back to the pioneer days).
"We can take control of the situation and reduce our energy and reduce our consumption. We don't have to live shivering in an unheated room with no modern appliances; we're just talking about being more energy efficient – reducing the need for so much power."
To read these books or any I review, click here, and if you have a book you'd like me to review, email me at jomschro2071@gmail.com.