If you've followed some of the motorsports coverage on DomesticFuel over the past few years, then you've probably read about Roush. Today, Roush announced that it is going to introduce a new concept into drag racing: a propane fueled Mustang. The Mustang, and its twin, will be ready to compete for the NMRA championship next season.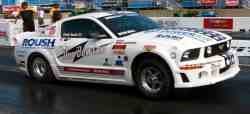 The cars are the result of the work Roush has been doing with propane in gasoline Ford pickups and vans. Jack Roush, the founder of the company that bears his name, cites several benefits in using propane as a "right here, right now" alternative fuel. First, propane, Roush says, is the third most popular motor fuel behind gasoline and diesel and there are currently more than 12 million propane-fueled vehicles on the roads around the world. (There are approximately 8 million flex-fuel vehicles on American roads today that can use up to E85).
When Roush was asked, why propane, he responded by saying, "It's as American as NASCAR. More than 90 percent of the propane used in the United States is produced in North America, much of it from the U.S. natural gas supply. Propane has so many positive aspects and it is finally getting the recognition it deserves as an alternative fuel. Propane can help to lessen our dependence on foreign oil. Propane can help to clean up our environment. And propane can help to create new 'Green Collar Jobs' for displaced auto workers who can return to the lines to build alternative fuel vehicles."
Propane has an advantage in high-performance applications such as drag racing due to its octane rating of 106. Both cars will use an all-aluminum 5.4L, V-8 Ford engine. The first propane fueled Mustang will be driven by Donnie Bowles and is slated to be tested in Mid-November. Roush's daughter, Susan Roush-McClenaghan, will drive the second Mustang set to begin testing in February 2010. Until next season, the cars can be seen during the SEMA Show in Las Vegas November 3-5, 2009.