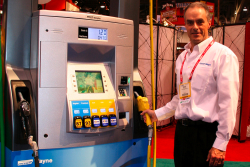 "It's what we do. We sell blenders to everyone," said Scott Negley, director of alternative energy products at Dresser Wayne. Blender pumps are gaining momentum across the country. They allow a retailer the flexibility to dispense various forms of gasoline and biofuels such as ethanol and biodiesel. Negley told me during the NACS show that 80 percent of the dispensers they sell are blender pumps.
"There is significant demand for blender pumps. That's what we do best. We've been doing it for years," said Negley. Actually, the company sold its first mechanical blender back in the mid-50s. Today, they have just debuted their new Eco-fuels blender series.
This series has the latest innovation in hydraulic technology that allows retailers to sell blended products from two hoses at the same fueling point. This allows for separation (which many states have legislated) of low and high-blend ethanol or biodiesel. The dispenser is customizable in 1 percent increments allowing retailers to sell the most popular blends of fuels, such as E30.
Another unique feature of the Eco-fuel series is that the dispensers have not only been designed for what fuels we have today, but the fuels we may have in the future. Negley noted that oil companies are working on fuels that will meet the CARB and RFS2 requirements. In addition, Dresser Wayne has products designed to dispense propane in Europe and is now in the process of developing a compressed natural gas (CNG) product.
You can listen to my full interview with Scott where he also discusses where UL is in the certification process and how that effects retailers.