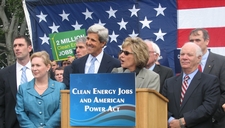 The Kerry-Boxer climate bill is set for markup tomorrow (Tuesday, Nov. 3) in the U.S. Senate Environment and Public Works Committee… whether or not any Republicans decide to come along.
The "Clean Energy Jobs and American Power Act," introduced by Sens. Barbara Boxer (D-Calif.) and John Kerry (D-Mass.) is set for passage out of committee.
According to this story from Renewable Energy World, some are happy to see the bill progressing:
While substantially similar in structure to the climate legislation approved by the House this summer, the Kerry-Boxer bill proposes more stringent near-term greenhouse gas (GHG) reduction requirements than the House bill, with reductions required below 2005 levels of 20% by 2020 and 83% by 2050…
Rob Gramlich, AWEA's senior vice president of public policy, said, "The continuing progress of this bill marks another milestone toward passing comprehensive policy that addresses climate change while changing our energy economy to one that is clean and domestic, creating thousands of new manufacturing, construction, and technical jobs to help drive our economy back to health."
Putting a price on carbon in this way and raising the price of fossil fuels is expected to help make renewable energy more cost competitive.
But, according to the Washington Post, the bill will have to go forward without any Republican support due to the minority members boycotting tomorrow's committee meeting because they feel it's being rushed without proper consideration:
Matt Dempsey, spokesman for the committee Republicans, said the minority was united in its opposition to moving forward.
"The EPW Republicans would like a markup of the Kerry-Boxer bill, but are disappointed that the majority seems intent on moving forward with a markup before receiving a full analysis from the EPA," he said. "Given the sheer size and significant economic impacts of the bill on the American people, we feel it is our duty to insist on having the analysis before members are to vote on the bill."
Usually, at least two minority members have to be present for a bill to move out of committee, but Boxer says she can move forward without them.
Groups such as the Biotechnology Industry Organization (BIO) are also concerned about what will be in the bill. Last month, I told you about how BIO sent a letter to Boxer, trying to head off any possible efforts to subject biodiesel and ethanol to another set of greenhouse gas emission regulations that would effectively put the green fuels under a double jeopardy situation.
Stay tuned… we'll update you as soon as we find out more.