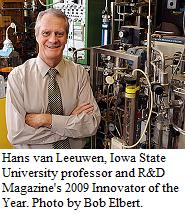 An Iowa State University researcher has been named "Innovator of the Year" for his work on biofuels.
This press release from the school says Hans van Leeuwen, whose research teams have been awarded back-to-back R&D 100 awards for biofuels developments, has also been named R&D Magazine's 2009 Innovator of the Year:
Lindsay Hock, the magazine's managing editor, wrote that the magazine's awards honor "the people behind some of the greatest innovations and discoveries in science." And the Chicago Tribune once called the magazine's awards the "Oscars of Invention."
Van Leeuwen, an Iowa State professor in the department of civil, construction and environmental engineering, is being recognized for his work to use microscopic fungi to improve the production of biofuels and for other innovations to protect the environment and improve water quality.
"I do appreciate that by presenting this award, R&D Magazine is recognizing the importance of the environment and finding ways to create new products from wastes and ultimately feed a hungry Third World," van Leeuwen said.
Earlier this year, a research team led by van Leeuwen won one of the magazine's R&D 100 awards for using a fungus to convert wastes from biomass processing into biodiesel.
Last year, one of van Leeuwen's research teams won an R&D 100 Award for its work to grow microscopic fungi in leftovers from ethanol production.
This latest award will be given out Nov. 12 at the Renaissance Orlando Hotel at SeaWorld in Florida.