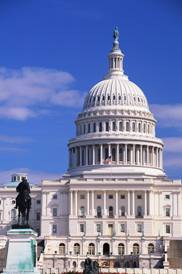 As the folks who are making the next generation of ethanol made their pitch to Congress (see Cindy's post from earlier), the people who are producing biodiesel from what could be the next great feedstock, algae, reminded members of the U.S. House Agriculture Committee's Subcommittee on Conservation, Credit, Energy, and Research not to forget about their truly green fuel.

Mary Rosenthal with the Algal Biomass Association told the representatives that despite some good progress for the algae biodiesel industry in recent years (not to mention the potential it holds), many of today's federal biofuel policies simply ignore the role algae could play, limiting opportunities for funding and regulatory acceptance. She says she just wants a fair shake from the government:
Key to algae's success in the fuels market will be ensuring:
1. Financial parity – Algae should receive the same tax incentives, subsidies and other financial benefits that other renewable fuels, particularly cellulosic biofuels, receive.
2. RFS parity – Algae is currently excluded from the majority of the Renewable Fuel Standard, due to a 16 billion gallon carve out for cellulosic biofuels. The carve out should be changed so that it is technology neutral, thus allowing algae-based and other environmentally sustainable fuels to contribute to our nation's efforts to become energy independent.
3. Beneficial CO2 reuse recognition– Algae's unique ability to turn CO2 into renewable fuels will allow the organism to play a significant role in abating carbon emitted by industrial sources. Consequently, algae's beneficial reuse of CO2 should be acknowledged and accounted for in carbon capture and sequestration legislation.
Rosenthal urged Congress not to miss the opportunity of developing a truly renewable, sustainable fuel that will create jobs, reduce pollution and increase national energy independence.