New York-based biodiesel maker and distributor Innovation Fuels has been recognized as an economic champion during the the annual Syracuse Economic Champions luncheon and awards ceremony.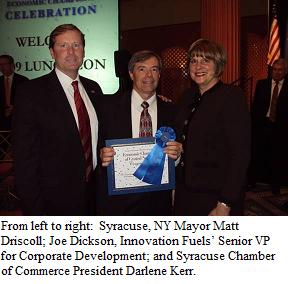 "We are absolutely delighted to be recognized by the local business community and the chamber here in Syracuse," commented [Joe Dickson, Innovation Fuels' Senior VP for Corporate Development]. "We are also very pleased to be contributing to the economy in central New York and look forward to future growth in the region."
In part, Innovation Fuels was recognized for relocating its corporate headquarters to downtown Syracuse this past June.