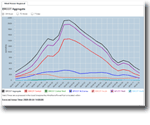 Weather Services International (WSI), in conjunction with Genscape's Enva, have launched WindCast IQ, the first wind generation forecasting service designed for energy traders. Wind Energy has seen a big boost with the move to alternative energy and has become the fastest growing source of power generation in North America. However, along with growth comes growing pains, and the increase in wind energy has also been a cause of congestion and price volatility in many regions.
The solution, according to WSI, is WindCastIQ, which gives clients highly accurate hourly forecasts for up to 7 days of wind generation at the ISO-level, regional and wind farm level. The first two products will cover the Midwest (MISO) and Texas (ERCOT) the regions with the highest wind power generation and impact on power markets.
"Wind power is an important source of clean energy and getting accurate wind generation forecasts is a growing challenge for all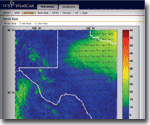 market participants," said Ira Scharf, General Manager of WSI's Energy and Risk Division. "The combination of WSI's highly skilled wind power forecasting teamed with Enva's expert understanding of the power grid creates an ideal pairing of forces to give energy traders and wind farm operators a true market edge."
According to the company, this product provides market participants previously unattainable levels of forecasting accuracy by combining WSI's skillful turbine-height wind forecasts and Enva's wind generation models and analysis of grid & market factors. Accuracy is further enhanced through calibration with Genscape's real-time power flow monitors installed at key wind farms.