The State of North Dakota has launched a program that will make $2 million in grants available for fuel station owners who install new, multifuel pumps that will mix ethanol right at the point-of-sale.
This post on InForum, the forum of Fargo-Moorhead, says buyers will be able to choose from pure gasoline up to E85 ethanol: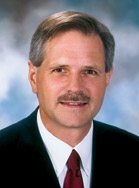 "We're excited about this initiative because it's a win for consumers, farmers, retailers and ethanol producers," said Gov. John Hoeven, during a Friday news conference announcing the state Department of Commerce Biofuels Blender Pump incentive program.
Service station operators, through a mix of grants and incentives, will be able to purchase and install the $25,000 blender pumps for less than $2,500, said Kent Satrang, CEO of Petro Serve USA.
North Dakota will provide grants up to $5,000 per blender pump and $40,000 per retail service station.
The North Dakota Corn Growers Association and Corn Utilization Council have allocated $500,000 to provide $2,500 per pump.
The remaining incentives include federal tax credits and ethanol industry incentives.
"The idea here was to partner the abundant corn fields of rural North Dakota with the massive Bakken oil fields of western North Dakota," Satrang said.
One goal is to raise ethanol volumes by replacing old gas pumps with innovative biotech blender pumps, he said.
North Dakota ethanol producers hope the new pumps will keep more of the green fuel in the state, since it costs 15 to 25 cents per gallon to ship it out-of-state.
More information is available here.