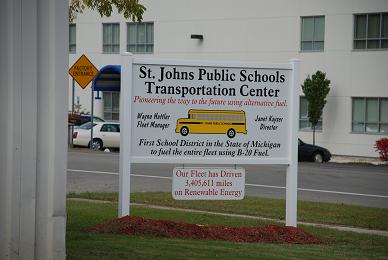 A school bus in Michigan has just hit 300,000 miles, and the bulk of those miles have come while running on biodiesel.
This National Biodiesel Board press release tells the tale of Bus #14 of the St. Johns, Michigan Public School system, which started burning a 20 percent blend five years ago:
"Since switching to biodiesel, it is much cleaner and smells much better," the 20-year veteran of the St. Johns, Mich. Public Schools said. "When fueling, you don't have the smell on your hands all day. Your clothes don't smell like diesel all day. It is a much better work environment and much healthier for the kids and the community."
The school district's switch to B20 in 2002 came from the persistence of Wayne Hettler, Garage Foreman & Head Mechanic for St. Johns. His foresight has led to a reported track record of bus longevity and reduced service needs, saving the school district money.
Last week, "bus #14" rolled over 300,000 miles – a milestone Hettler attributes to B20 and believes no other Michigan school bus used on a daily route has achieved.
In October, 2002, bus #14 had 119,621 miles on the odometer. That was the first day of the rest of its life on B20. Since then, the maintenance on this engine has been very low with the only unscheduled maintenance being a $160 lift pump and a $90 injector, according to Hettler.
St. Johns officials add that due to the extra lubricity biodiesel brings to the table, the school district has been able to extend the mileage between oil changes from about every 6,000 miles to 12,000-18,000 miles, saving the district money on oil and filters. The district figures it has driven 3 million miles on B20.
The program hit a bit of a snag when rising biodiesel costs forced school officials to cut to B5, but they hope that they'll be able to go back to B20 soon.