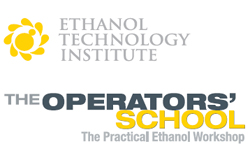 Coming to Omaha, Nebraska on November 10-12, the Operators' School is designed to educate ethanol producers on the ins and outs of alcohol production, the latest troubleshooting techniques and technology used in the industry. The three day conference will be held at Scott Conference Center at 6450 Pine Street.
According to the Ethanol Technology Institute, the Delegates will be immersed in the complete ethanol processing system with lectures covering topics from raw materials, to distillation, to coproducts. Hands on functional demonstrations are also conducted as part of training. Leading industry scientists and academics, as well as Ethanol Technology Institute experts, will direct lectures.
To find a complete agenda for the training, click here. For a registration form, click here.