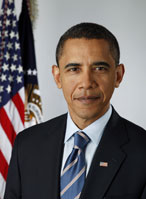 President Barack Obama was touting renewable energy during his visit this week to the Massachusetts Institute of Technology.
The Wall Street Journal reports that during a speech before 750 MIT faculty, local business leaders and politicians reminded those in attendance that green energy choices will lead the country to true economic prosperity:
Mr. Obama also touted the $80 billion in energy-related spending in the $787 billion stimulus bill he signed in February, saying it "makes the largest investment in clean energy in history, not only to help end this recession, but to lay a new foundation for lasting prosperity." The stimulus package includes spending on battery technology for hybrid vehicles, energy efficiency retrofitting and renewable energy initiatives like wind and solar power.
Mr. Obama had campaigned on the promise of quickly capping U.S. greenhouse-gas emissions, a break with the policies of the George W. Bush administration. But legislation that would reduce industrial emissions has lost momentum in Congress this year, as lawmakers labor over health-care system and financial industry regulations that have taken months longer than anticipated.
The president's aides had once hoped the Senate would pass a climate change bill before the United Nations' climate change summit in Copenhagen in mid-December. But now, early next year is the soonest final legislation is expected to reach the Senate floor. The Senate Environment and Public Works Committee is scheduled to begin hearings next week on legislation to cut U.S. emissions 20% below 2005 levels by 2020.
The White House believes the legislation could be passed by January, but the article says few in Congress see that happening.