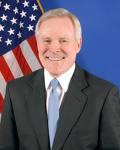 The U.S. Navy has launched a new program to green its fleet… and biodiesel and ethanol are important elements of that campaign.

This article in the Pacific Coast Business Times says that during a seech this week in Santa Barbara, California, U.S. Secretary of the Navy Ray Mabus launched the idea of a "Green Fleet," an ambitious goal to use non-fossil fuels to produce half of the energy for the U.S. Navy's sea and shore vehicles:
In a speech hosted by the Santa Barbara Council of the Navy League at the Dreier Building in Santa Barbara, Mabus noted that the Department of Defense accounts for 93 percent of the federal government's energy consumption. Greening the Navy and Marine Corps' energy sources will go a long way toward weaning the country off costly fossil fuels produced in "volatile" regions, he said.
Mabus acknowledged that the Navy's technology and infrastructure aren't mature enough to handle the job now. But history has shown that both tend to catch up to the Navy's demand, Mabus said, citing the moves from wind to coal and steam to oil. "If the Navy comes, they will build it," he said.
Mabus said a variety of alternative sources — ethanol, biofuels, fuel cells and more — will be needed to achieve the Navy's goals. The service already runs its submarines and most of ships with nuclear power.
The Navy has already commissioned the service's first hybrid ship, the USS Makin Island, that uses a combination of gas turbines and electric drive. Mabus believes that innovations in the clean fuels business will make the Green Fleet a reality.