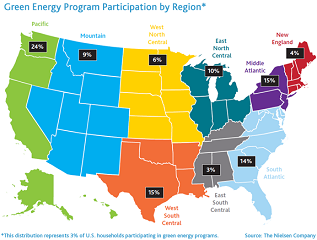 Americans want green energy choices, with the largest motivating factor for those choices being saving some greenbacks. And the top choices for that green-saving energy are solar and wind.
The latest Nielsen Company Energy Trends report shows that 80 percent of the 32,000 respondents polled cited cutting costs as their main motivation for conserving energy:
Overall, the study shows that many consumers have adopted more environmentally friendly habits, while others have not acted as quickly. "The current momentum surrounding green initiatives and reduced energy consumption presents utilities and home improvement companies with a golden opportunity," says Jonathan Drost, Account Executive, Energy for The Nielsen Company. "When going green is cost effective, such as opting for Energy Star appliances or government incentive programs, customers migrate in that direction. The biggest hurdle for energy companies is educating the consumer on things like Smart Grids, Energy Efficiency programs and Renewable Green Energy."
Renewable energy sources are at the heart of the emerging green economy, and if consumers have any say, solar would be their carbon neutral source of choice. "I believe solar came out on top as a preference because it is a technology that consumers can identify with," Drost offers. "Not only can a consumer place solar panels on their home or purchase solar water heaters, but also they see retailers installing solar panels on their roof and hybrid cars with solar roof options. It's been a media hot topic as well."
The survey shows that 37 percent of respondents prefer solar power, and 16 percent want wind.
Only 3 percent of those households surveyed say they plan on buying a plug-in hybrid, but about one-fourth say they would purchase one once the technology became more widely used.
Nielsen officials say more consumer education is needed to bring in the next wave of renewable energy "early adopters."