One of the big knocks against solar and wind energy is the lack of infrastructure to connect the power generated in remote areas of the American West with the large population centers back east. But a project in New Mexico could change that.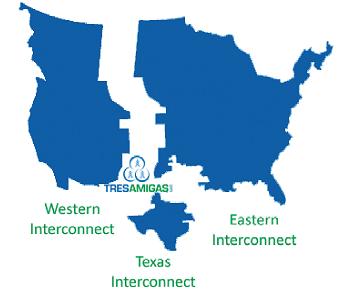 GreenBeat reports that state's governor has unveiled a plan to build a massive electric transmission station in Clovis, New Mexico. The Tres Amigas Super Station is designed to connect the U.S.'s three main power grids and better channel solar and wind energy:
The proposed project, which would take about five years to build beginning in 2011 or 2012, would be the largest power converter in the world, covering 22 square miles and fundamentally changing how electricity flows across the country. New Mexico, which would benefit tremendously from the jobs and revenue created by the facility, was chosen because it is located nearest to where the three power grids — referred to as the East, West and Texas interconnections — meet up. On top of that, conditions in the state would allow it to geenrate up to 27 gigawatts of solar and wind energy.
The $600 million project will have a capacity of 5 gigawatts to begin with and could be scaled up to 30 gigawatts. It's expected to put $4 billion back into the local economy.