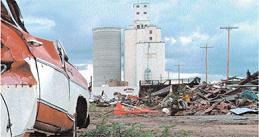 Greensburg, Kansas, literally destroyed by a tornado in May, 2007, is getting some help from the government to have a green energy source supply the power for the town as it continues to rebuild.

The USDA has announced a $17.4 million loan to Greensburg Wind Farm, LLC, to provide financing for the 10 wind turbine project that will supply power to the community:
The total project cost is estimated at $23.3 million. Approximately, $17.4 million will come in the form of a loan to Greensburg Wind Farm, LLC, a subsidiary of John Deere Renewables, with the remaining $5.8 million, or 25 percent of the total project cost, being provided through an equity investment by Deere & Company. The loan will support the 10 wind turbine project that will generate 12.5 MWs of electricity that will serve the electric needs of the City of Greensburg and other rural communities through the Kansas Power Pool.
"I am proud of the long standing commitment by USDA Rural Development's Rural Utilities Service toward working with community-based electric cooperatives to find new and more energy independent ways to power rural America," said Rural Development Under Secretary Dallas Tonsager.
The USDA claims it has provided the town with about $20 million in financing to help with the community rebuilding efforts.