For many people who are passionate about alternative vehicles, the Alternative Fuels & Vehicles Conference + Expo (AF&V) has been the place to be for more than a decade. This is not changing as Las Vegas will be the host of the 2010 show being held May 9-12, and the show will renew its focus on fleets through its "Focus on Fleets" program.
According to AF&V, 20 percent of the average fleet (ranging from 300 to more than 1,000 vehicles on average) is made up of a vehicle that runs on alternative energy.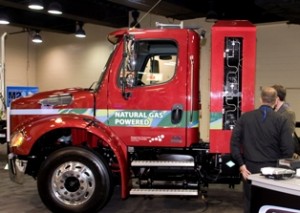 Speaking of fleets, natural gas has become all the rage with 19 of the 25 Clean Cities Recovery Act Awards announced in August 2009 including CNG and LNG stations and vehicles in their project proposals. To support the growing number of natural gas vehicles, it is estimated that 133 CNG and 10 LNG stations will come on-line in the several years to fuel some 2,473 CNG and 416 LNG vehicles according to the winning proposals.
As part of the AF&V 2010 "Focus on Fleets" program, you can register to win one of 25 free conference registrations worth $899 each. To qualify, you must be the primary fleet manager or owner with a minimum of 25 vehicles and be new to the conference. The deadline to register is October 16th. Click here for more information.