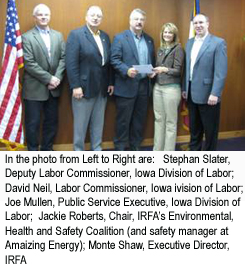 A two-year safety alliance has been formed with the Iowa Occupational Safety and Health Administration (Iowa OSHA) and the Iowa Renewable Fuels Association (IRFA). According to the IRFA, the alliance sets in place regular meetings between Iowa OSHA and IRFA's Environmental, Health and Safety Coalition. The focus is to explore best management practices and improve the recognition and control of workplace hazards.
"The new safety alliance between IRFA and Iowa OSHA sets up an important mechanism to share cutting edge safety information – both between the organizations, but also between individual biorefineries," stated IRFA Executive Director Monte Shaw. "The biofuels industry is very proud of its safety record, but we know there is room for improvement. This alliance is open to every Iowa biodiesel and ethanol facility that agrees with our motto: safety isn't 'proprietary.' Through this venue, competitors in the marketplace come together to share new ideas and lessons learned with the goal of helping every biorefinery in Iowa be as safe as possible."
"Iowa OSHA congratulates the Iowa Renewable Fuels Association for stepping forward and giving leadership to employee safety in the Iowa biofuels industry," said David Neil, Iowa's Labor Commissioner. "The industry has had a good record in employee safety but there is always room for improvement and we are proud to be a part of the ongoing effort by companies involved to improve and maintain safe working conditions for all involved. One accident is too many and therefore continued vigilance in this area is in the best interest of all."
Iowa is the leader in renewable fuels production. Iowa has 40 ethanol refineries capable of producing nearly 3.3 billion gallons annually. In addition, Iowa has 15 biodiesel refineries with the capacity to produce over 322 million gallons annually.