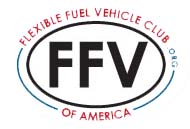 A flexible fuel vehicle (FFV) rally is being held tomorrow, October 8 beginning at 10:30 a.m. The driver education campaign will begin with a press conference at the Midway U-Gas location at 210 NW 79th Avenue in Miami, Florida. After the press conference, E85 will sell for 85 cents per gallon from 11 a.m. until noon.
The educational rally was announced in July at the Florida Farm-to-Fuel Summit by Charles Bronson, Florida Commissioner of Agriculture and Consumer Services, and Florida Governor Charlie Crist. The Clean Fuels Foundation and the FlexFuel Vehicle Club of America are the organizers of the campaign.

The campaign will help locate, educate, and motivate FFV owners to use higher blends of ethanol so the U.S. can meet the goals of the national renewable fuel standard (RFS) and pave the way for 2nd generation biofuels in Florida. Brazilian Sugarcane Industry Association (UNICA) is sponsoring the upcoming series of IndyCar Race related events which is the next phase of the driver education campaign.
Two free IndyCar Race Tickets and special parking/FFV Corral passes will be given to the first 50 FFV owners to purchase E85 at the Rally tomorrow. IndyCar Race Driver Mario Moraes will be available for autographs from 11 a.m. to 11:40 a.m.