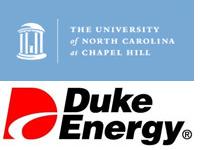 You don't expect Duke and the University of North Carolina to be together on too many things, especially when it comes to items on the basketball court. But in this case, it's Duke Energy teaming up with the Tarheels on a wind energy project.
The Triangle Business Journal reports that the two are partnering to put up three wind turbines in Pamlico Sound that could become the first turbines placed in water in the country:
The project follows a nine-month UNC study completed in June for the general assembly that concluded the state has the potential to develop utility-scale wind energy production.
Duke will pay for the turbines and their installation. UNC will continue its wind energy research throughout the project.
"This project is a great example of how university research can expand our understanding of an issue – in this case, wind energy," UNC Chancellor Holden Thorp said in a prepared statement. "Then an industry partner like Duke Energy can use that research to do what they do best and develop this on a larger scale."
The project would join Duke's 634 megawatts of land-based wind power it currently has in Pennsylvania, Texas and Wyoming and another 99 megawatts under construction and an additional 251 megawatts of wind projects that should start producing power next year.