The waste vegetable oil at a potato processing facility is now becoming the green fuel biodiesel, thanks to some new technology from a California maker of biodiesel refining equipment.

Biodiesel Magazine reports that BioFuelBox Inc. has installed the first of a new biodiesel technology that has been operational since August at the potato plant in American Falls, Idaho:
San Jose, Calif.-based BioFuelBox came out of stealth mode earlier this year with the announcement that its patented and trademarked NovoStream process had successfully overcome a technical obstacle in removing sulfur from biodiesel made from low quality waste-based feedstocks. Reddy described NovoStream as a continuous flow, supercritical process using high heat and pressure to convert free fatty acids (FFA) and triglycerides to biodiesel in one pass with high yields. The process can handle up to 100 percent FFA, high contaminant levels as well as high moisture content. Pretreatment is limited to removing solids and excess water, according to Reddy. He added that the net energy ratio for the process is roughly twice that of standard biodiesel, in spite of the use of more energy for the heat and pressure used in the process. The company says the process yields 7 units of energy out for every 1 unit used, the primary energy savings coming from the minimal energy contribution from on site production and the waste feedstock itself.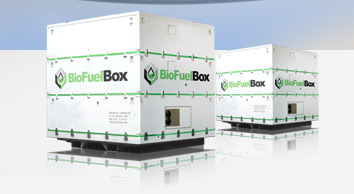 The 1 million-gallon-a-year, turnkey operation BioFuelBox modular unit can drop into any place that has a ready supply of biodiesel feedstock. Look for it to become a standard fixture at other places that have lots of grease or oil outputs, giving those places some high-quality biodiesel that they can either use themselves or sell to add value to their products.