EPA regulations as part of the Renewable Fuels Standard has impacted thousands of businesses working in the biofuels industry. As part of this regulation, the EPA now requires that each gallon of ethanol or biodiesel must have a Renewable Identification Number, known as RINS. While some perceive RINS to be a burden, others have learned how to improve their bottom line profits.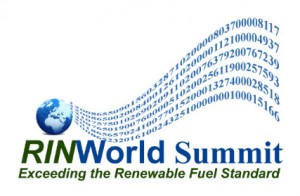 The 2nd Annual RINWorld Summit is being held in Dallas, TX on November 4-6, 2009 and last year, several hundred people learned about how the RFS is changing their business and more importantly, how to profit from these changes. This year speakers include John Wienouch, EPA, Office of Transportation and Air Quality (OTAC) as well as Erv Pickell, EPA, Office of Enforcement Compliance Insurance.
Topics include:
~Implementing RFS2 into your business
~The New "Burden of Proof" Facing Producers
~RFS1.75 and the more immediate standard
~California Raises the Mark in 2010 with the LCFS
~How EMTS will impact your business and what you can do to be Prepared
~Trading the RIN as an Asset and How to Maximize Profits
~The 38 Steps to RIN Validation and How to Implement them
~The Blend Pump Initiative and its Impact on Ethanol Demand
Current RINSTAR members receive one free registration. Not a member? Attend as the guest of a RINSTAR member and receive a 50 percent discount off the current registration rate. Click here for more information and to register.