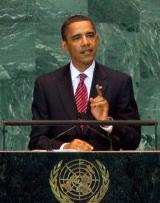 Renewable energy was part of Barack Obama's speech to the United Nations today, as the American president outlined his vision for the future before the world body.
Obama told delegates that the U.S. has spent $80 billion in clean energy. But the overall efforts of using renewable energy to save the climate are for the entire world:
We will move forward with investments to transform our energy economy, while providing incentives to make clean energy the profitable kind of energy. We will press ahead with deep cuts in emissions to reach the goals that we set for 2020, and eventually 2050. We will continue to promote renewable energy and efficiency, and share new technologies with countries around the world. And we will seize every opportunity for progress to address this threat in a cooperative effort with the entire world.
Another world leader made a more personal appeal for the world to address climate change. President Mohamed Nasheed of Maldives, an Indian Ocean island nation that could simply disappear if rising oceans were not checked, told the U.N. that more than speehes are needed to save his country from a watery fate.