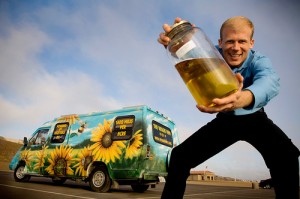 The Sundance award winning documentary, "FUEL" is set to open up in 150 theaters across the U.S. tomorrow. The "FUEL" team will be on hand in New York for the nationwide premiere, which is being hailed by people who have had the opportunity to pre-screen the film as "eye opening," "insightful," and "powerful". The film was directed by Josh Tickell (who is also the star) and produced by Rebecca Harrell.
A little background. The film was nearly a decade in the making. Born in Australia, his family moved back to his mother's home state of Louisiana where he lived near the dozens of oil refineries. The pollution was tremendous and the consequences to the health of his family and neighbors was oftentimes devastating. As he grew older, he knew there had to be a better way to produce fuel than oil. The answer: biodiesel. It's environmentally friendly and sustainable. So he began his journey in his "Veggie Van," which he drove across the country on used restaurant grease and promoted the benefits of biodiesel.
I had the opportunity to preview the film and I must say, despite my not agreeing with everything in the film, overall, it was very inspiring. The film does a wonderful job of delving into all areas of the issues that affect the success of biodiesel. And I must say the graphics were sensational, well-placed and informative. Some areas that were really well done include the way Tickell lays out the world's current love-affair with oil and the consequences that will ensue if the world continues down this path. He also does a great job of discussing America's current energy policy.
Where I diverge his his way of thinking is in first-generation biofuels and their cause for high food prices. The real culprit to high food prices is oil. Without first generation biofuels, we will NEVER have second and third generation biofuels. This cannot be overlooked as we work together to guide our government on creating more effective energy policy.
I encourage everyone to see this film. You can get a list of all the cities that will be showing the film by visiting www.TheFuelFilm.com. If the film isn't coming to your town, consider working with your local community to host a showing. It will be well-worth your time and effort.