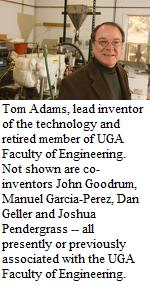 Researchers at University of Georgia will be turning forest and agricultural waste into biodiesel.
The Atlanta Business Chronicle reports that the school has licensed technology to Sacramento, Calif.-based Tolero Energy LLC to turn the waste into the green fuel:
The process turned waste biomass — dead trees, agricultural waste and lumber byproducts — into a liquid fuel to power conventional engines. The biomass is heated at carefully controlled high temperatures in the absence of oxygen. The vapors produced rapidly condense into a bio-oil that can be added to biodiesel or petroleum diesel. Other by-products are gas and bio-char, which can be used as a soil amendment.
The ultra-low-sulfur biofuel does not require additional refinement or processing before blending with biodiesel and petroleum diesel, UGA said.
Tolero CEO Chris Churchill said the company will focus on the transportation fuels market as it completes development of the UGARF bio-oil technology. He expects to make a product based on the technology available in the first half of 2010.
Tolero will also be turning cellulosic biomass, such as agricultural waste and waste wood pallets, into transportation fuels, heating fuels, soil enhancers and industrial products.