The largest oil and gas producer in the country is predicting that in 20 years, there will be more ethanol and biodiesel than gasoline and diesel produced in the U.S.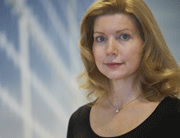 Bloomberg.com reports that Katrina Landis, head of BP's alternative-energy unit, made the claim that biofuels will replace about 25 percent of gasoline and 8 percent of diesel in 2030, raising American biofuel production by more than four times what it was per day in 2007:
Gasoline producers are entering the U.S. ethanol business as the government promotes use of the corn-based fuel to curb dependence on oil imports. Valero Energy Corp., the largest U.S. refiner, paid $477 million in March for seven ethanol plants owned by bankrupt producer VeraSun Energy Corp. Biodiesel, for use in diesel-powered engines, is made from vegetable oils and animal fats.
BP Alternative Energy has earmarked $8 billion for project investment in the decade through 2015. BP, which expects biofuels to account for 11 percent to 19 percent of the world's transport-fuel market by 2030, supplied about 10 percent of global biofuels last year, according to company estimates.
Expansion in biofuels, along with solar, wind-power and carbon-capture and storage projects, will help BP reduce greenhouse-gas emissions, blamed for global warming, Landis said.
"We are now taking steps in BP to build the cost of carbon into everything we do; every project we consider, whether that be in exploration, refining or retail," Landis said.
You can read the text of Landis' speech here.