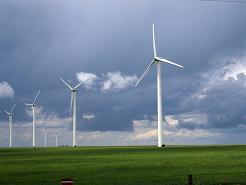 Wind turbines could become more efficient and reliable, with some help from a $1-billion program that has just passed the U.S. House.
Rep. Paul Tonko (D-N.Y.) is the sponsor of the measure that the San Francisco Chronicle says aims to ensure that the biggest of the wind-generating turbines will be the most cost effective… important if wind energy is to hit the Energy Department's prediction of wind providing 20 percent of U.S. electricity supplies by 2030:
Tonko said more research is needed to overcome the "many significant technical issues" facing wind-generated electricity.
One of the biggest barriers is the high cost of transporting ever-growing rotary blades and heavy tower components from assembly plants to wind farms in gusty but often remote regions.
Under Tonko's bill, the proposed wind research, development and demonstration program would get up to $200 million annually over five years to spur the creation of low-cost transportable towers and larger, lighter and more affordable blade materials.
Tonko said the initiative could leverage nanoscience research by businesses and research institutions that are working at the molecular level to create lighter and more durable materials.
The program would also look for ways to make the turbines' gearboxes more reliable and develop cheaper assembly techniques for large components. Plus, it would work on how to overcome the issue of unpredictable winds.