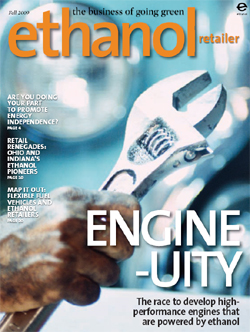 The Fall 2009 of Ethanol Retailer has recently been published by Growth Energy. The free pulication, distributed to over 25,000 retailers nation wide, is geared specifically towards independent ethanol retailers and petroleum marketers.
The magazine encourages installation of mid-level and E85 blends and provides the necessary information to retailers on the installation process at their station. The publication also highlights financial opportunities and incentives available to retailers for installation of ethanol blended fuel.
A few highlights of the Fall 2009 issue includes: first person stories on how two independent retailers took the fast track to installing blender pumps in Ohio and Inidana; mapping ethanol use in the U.S.; and the race to develop high-performance engines that are powered by ethanol.
See a copy of the Fall 2009 edition of Ethanol Retailer by clicking here.