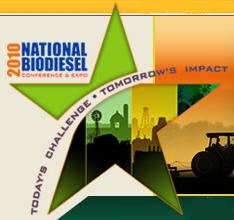 It's that time of year again… time to start talking about the National Biodiesel Conference and Expo!
Now, if you're looking at your calendar, you'll notice that the National Biodiesel Board's premier event is still about five months off, scheduled to take place February 7-10 at the Gaylord Texan hotel, just a few minutes from the Dallas-Ft. Worth Airport. But now is the time to start making plans, and, in fact, Sept. 18th is an early bird deadline for exhibitors to take advantage of the best savings and to reserve the best booth space. Click here to register and for more information.
Meanwhile, our friends at the NBB say by listening to previous attendees and exhibitors, they are improving the networking possibilities for the numerous biodiesel marketers, feedstock growers, fuel distributors, government leaders and other biodiesel stakeholders.
From our new Monday evening reception in the Exhibit Hall, the addition of a new Biodiesel Networking Center in the Exhibit Hall, a new and improved NBB Connections social networking system to the numerous open forum "round table sessions" that will be offered this year, NBB wants to assist in these efforts to connect and learn! We believe these additions and changes to the program will create boundless networking opportunities and allow you to meet new people with some of the same biodiesel interests. Where better to meet than the premier biodiesel conference in the country?
For more information contact the NBB Conference Office at 303-798-3664 or e-mail at nbb@kinsleymeetings.com.