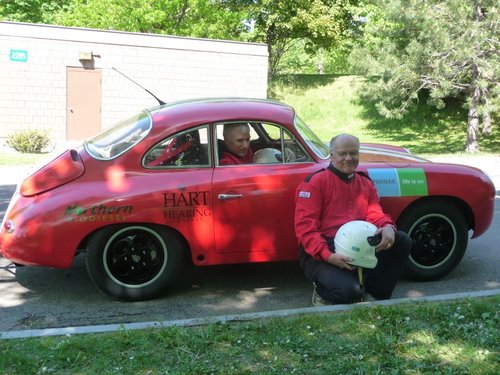 Yesterday, I told you about how a biodiesel-fueled motorcycle is taking off for a 12,000-mile trip around Australia. Now, a restored 1965 Porsche made to run on biodiesel will take part in race around Newfoundland, Canada.
This article from the Rochester (NY) Democrat and Chronicle says local audiologist Steve Hart and his friend Tom Megan will compete in the Targa Newfoundland, a 1,400-mile road rally around the Canadian island:
They'll be driving Megan's souped-up 1965 Porsche, calling it the "Race for Hearing" to raise money for hearing aids, raise awareness of hearing loss and raise (civilized) hell on twisting two-lane roads, all on carbon-neutral, biodiesel fuel from a local source.
Four years ago, Megan decided to restore the ride. He grinded it down to the metal, welded away the rust and popped in a 1985 VW engine that runs on vegetable oil.
"I wanted to build a car that had good performance and 50-plus miles to the gallon," says Megan. "There won't be another car in the Targa that runs on less fuel."
Targa's race organizers say theirs is the first car to compete on pure biodiesel.
The five-day race starts Saturday and is expected to draw 300,000 spectators.
You can follow the racers on the Race for Hearing blog, and you can see some pretty neat pictures of the restoration of this classic Porsche here.