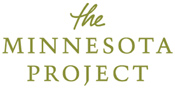 A group that touts its efforts to promote "the sustainable production and equitable distribution of energy and food in communities across Minnesota" has issued a report on the renewable fuels used for transportation in this country.
The Minnesota Project's Transportation Biofuels in the United States: An Update looks at many of the issues regarding biofuels in this country, including food vs. fuel and Indirect Land Use:
[W]e do intend for Transportation Biofuels in the United States to act as a tool to provide an overview of the current status of major developments in the biofuels industry. We highlight recent changes in biofuels production processes, biomass development, and federal level policies such as the Biomass Crop Assistance Program. We also review unavoidable issues including the food versus fuel debate and the difficult indirect land use change debate. Our intention is not to criticize, cheerlead, or otherwise deny or approve particular results or arguments. Instead, our purpose is to provide information, pose questions, and seek objective analysis of the information that is currently available. Only through an open discussion may we most effectively find root problems and appropriate solutions. We believe that through honest evaluation and analysis, this wave of biofuels will not only stay together, but carry us all in the right direction.
The report breaks down what's going on with biofuels into three main areas: technology, policy and issues. You can download the report here.