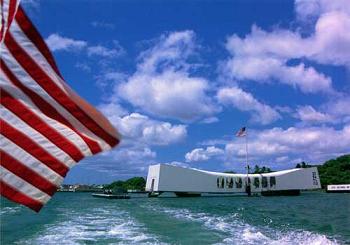 Last April, I told you about how visitors to one of the most sacred places in U.S. history, Pearl Harbor, Hawaii, were now being shuttled out to the USS Arizona Memorial by a boat that runs on biodiesel.

This U.S. Navy press release says a second biodiesel boat, USS Arizona Ferry Boat #39-2, "Samuel G. Fuqua," is now taking people to that hallowed place: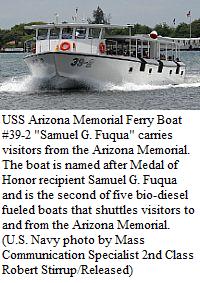 The new boats will eventually replace the existing 20-year-old U.S. Navy-operated tour boats that shuttle visitors to and from the USS Arizona Memorial as part of the National Park Service's (NPS) World War II Valor in the Pacific National Monument tours.
The design of the environmentally friendly boats will reduce the carbon footprint of the ferry service, contributing to the Navy's efforts toward affordable and clean naval power. The clean fuel technology components include twin diesel engines that fully comply with EPA emissions standards, and a complex fuel system optimized for biodiesel fuel and designed to further reduce emissions. The diesel oxidation system is engineered to chemically convert hydrocarbons and carbon monoxide into water and carbon dioxide. The new boats use locally produced, 100 percent renewable biodiesel.
While most U.S. Navy boats have hull registration numbers only and no names, the five new Arizona ferry boats are unique because they are named after five Medal of Honor recipients of the Pearl Harbor attack. The boats are numbered 39-1 through 39-5 to reflect Battleship Arizona's hull designation, BB-39. The remaining boats, #39-3 Cassin Young and #39-4 Donald K. Ross, will arrive in the next several months, with the fifth and final boat, #39-5 Jackson C. Pharris, to be delivered in the summer of 2010.
This latest ferry boat is named in honor of Samuel Glenn Fuqua. Nearly 60 years ago on that "day that would live in infamy," Lt. Commander Fuqua showed tremendous courage trying to save as many lives as possible on the ill-fated USS Arizona. Despite being knocked unconscious by a bomb that slammed into the Arizona, Fuqua was able to recover to direct the fighting of fire and rescue of wounded and injured personnel. Being the senior surviving officer, Fuqua realized the ship could not be saved, ordered the ship abandoned, and remained on the quarterdeck to save the ship's remaining crewmen. I think the biodiesel industry should be proud to have such a high-profile transport named after a true American hero burning its green fuel.