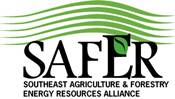 St. Louis was the destination this week as more than 100 researchers and industry leaders from 10 states came together for the "Algae-to-Energy in the South" regional summit aimed at looking at algae's potential as a renewable energy resource, particularly making it into biodiesel.
This National Biodiesel Board press release says Dr. Richard Sayre, the Director of the Enterprise Rent-A-Car Institute for Renewable Fuels at the Donald Danforth Plant Science Center, called biodiesel a sustainable component of our fuel supply:
"Biodiesel is going to be very important for transportation," he said. "Trains and trucks use biodiesel of course. Oil based systems and biodiesel is really going to be the future."

The National Biodiesel Board has been proactive to support research and development to learn more about algae's potential as well as honing algae extraction techniques. NBB's feedstock program, with funding from the U.S. Department of Transportation, is working with Dr. Sayre to further develop a non-destructive oil extraction process, sometimes referred to as "milking the algae," that is capable of continuously removing oil from living algal cultures. The program is considering what strains perform best and how the process may benefit production efficiency by removal of contaminants.

Dr. Sayre explained that oil based fuels, such as biodiesel, have many benefits. They boast twice the energy density of alcohol; oil producing plants have reduced impact on the environment; and algae based biodiesel can be produced on land not suitable for other uses and result in higher oil per acre than currently available.
The summit was hosted by the Center for Evergreen Energy, the St. Louis Regional Chamber and Growth Association and the Southern Growth Polices Board.