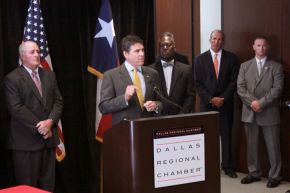 More state vehicles in Texas will be running on something other than the non-renewable petroleum the state is known for.
This post on Examiner.com says the new law, effective September 1st, will require at least half of the 27,000-vehicle state fleet will run on alternative fuels 80 percent of the time:
"House Bill 432 addresses the fact that our state is a leader in the research and production of alternative fuels, but we lack the infrastructure to get drivers who would use it to fuel their vehicles", Governor Perry said at a ceremonial bill signing in Dallas last week. "Since our state already spends money on a fleet, this bill requires it to include vehicles that use alternative fuel. That will drive the creation of a basic distribution infrastructure and take advantage of the fuels we produce in Texas, including natural gas coming from the Barnett Shale".
Earlier this year, Dallas-based AT&T announced it was working to build up to 40 new compressed natural gas (CNG) fueling stations and retire its fleet of gasoline-powered vehicles and invest up to $565 million in alternative fuel vehicles.