The recent American Coalition for Ethanol's 22nd Ethanol Conference & Trade Show in Milwaukee saw an exploration of an issue that remains a hot issue in the biofuels biz: Indirect Land Use.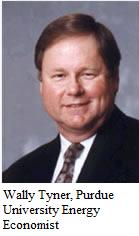 The concept that the growth of some biofuels feedstocks in the United States, especially corn and soybeans, could cause the cutting down of the rain forests in other parts of the world… and would disqualify some of the green fuels from being part of the proposed Renewable Fuels Standard.
The latest discussion featured energy economist from Purdue University Wally Tyner and Air Improvement Resource President Tom Darlington, who talked about how studies that blamed corn-based ethanol for deforestation ended up being wrong and how the most common economic models used to figure the amount of Indirect Land Use vary too much and don't consider things like dry distillers grains.
You can subscribe to the DomesticFuel Cast here. Listen to or download the latest edition here: