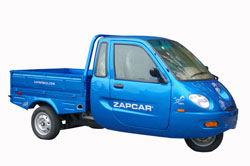 ZAP, a company leading the way in electric vehicle (EV) development, announced that it has secured $25 million in new financing with Cathaya Capital, L.P. Ultimately the investment will be managed by its affiliate partner Better World International who is developing EV charging infrastructure. ZAP will use a portion of the funding to pursue longer-term contract production and assembly commitments, and to accelerate deliveries of trucks and vans to fill current fleet and government orders. With the addition of this funding, ZAP has now raised up to $31 million in new financing for ZAP's electric vehicle capital expansion since June.
"This is a critical juncture for ZAP as we now have the means and resources to begin addressing the opportunities at hand on a global basis and to fully realize the leadership position possible in the electric vehicle marketplace," said Steven Schneider, CEO of ZAP.
ZAP has 15 years of experience in the distribution and sale of 100 percent electric vehicles. They are leveraging this with their expertise in the design and manufacture of electric vehicles to improve on the current technology and accelerate development of powertrain technology that improves overall performance of its vehicles while achieving cost reductions.
The proceeds of this financing also will enable ZAP to expand its vehicle distribution network into the European Union (EU) where recent government incentives supporting the adoption of electric vehicles have increased demand for practical models at affordable prices. In addition to targeting market opportunities in the EU, ZAP intends to pursue automotive opportunities in China. Last month, the China Daily called for government incentives on the purchase of vehicles that reduce pollution and minimize dependency on oil.