If you missed the 22nd Ethanol Conference & Trade Show hosted by the American Coalition for Ethanol (ACE) then you probably haven't heard who won the 2009 awards. So I'll fill you in.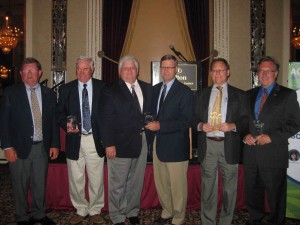 The Merle Anderson Award went to David Hallberg who formed the Renewable Fuels Association in 1981. In addition, he is a director of the Nebraska Ethanol Board and a former director of ACE.
The Policy & Legislative Leadership Award went to Undersecretary of Agriculture, Tom Vilsack. Vilsack is the former Governor of Iowa.
The Grassroots Award went to Chippewa Valley Ethanol Company. Based in Benson, Minn., the plant is one of the longest-tenured of the cooperative ethanol facilities in the country.
The Media Excellence Award went to Peter Rohde, editor of Kiplinger's Biofuels Market Alert based in Washington, D.C.
The Paul Dana Marketing Vision Award was given to Kwik Trip, Inc. They were one of the first to offer E85 in Minnesota and today have 60 E85 stations and counting.
The 2009 ACE Scholarship Winners and the ACE Scholarship Fund was awarded to: Jordyn Mallo, Tony Newman, Ryan Truax, and Jessica Weitgenant.
Congrats to all the winners!
You can see all the photos from the conference in our Flickr photo album.