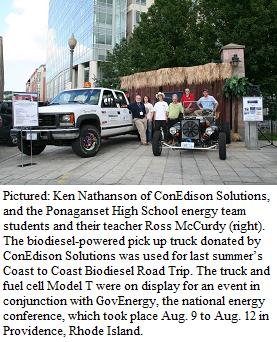 Some students from Rhode Island have certainly been getting quite the education when it comes to renewable energy… and they're passing their knowledge along.
Students in Ponaganset High School teacher Ross McCurdy's class have taken their fuel-celled powered Model T and a biodiesel-powered pickup truck that they drove 3,000 miles cross-country last summer to GovEnergy 2009, the premier energy training workshop and tradeshow for Federal agencies, going on now in Providence, Rhode Island.
Through e-mail, McCurdy tells Domestic Fuel that the Fuel Cell Model T project vehicle is a replica of a 1923 Ford Model T Roadster.
"The project is being done in two phases. First we converted it from a roaring Chevy 350 V8 gas engine to electric power, and for the second phase we are integrating a 12 kilowatt Hydrogenics fuel cell, fueled by twin Lincoln composite transportation grade hydrogen cylinders," McCurdy says.
He adds that with fuel cells, the only emissions are clean water and even the hydrogen that runs the fuel cell can be derived from water, while providing no harmful emissions.
The school district has several other hands-on, clean energy projects, including the world's first fuel cell powered band, Protium. They use instruments, microphones, amplifiers, speakers, even the "portable earthquake" subwoofers, that run on electricity generated by fuel cells.
"Kids love rock and roll and hot rods – and with these projects we've been able to demonstrate renewable energy technology with projects they can relate to."
Student Zane Lewis, McCurdy's right hand man on the fuel cell projects as well as a participant in the coast-to-coast biodiesel pickup road trip and the sound man for the band Protium, says it's been a group effort.
"The Model T project has been a great learning experience, and we did the whole thing from scratch. We came up with the idea in class, and then took it out of the classroom to the garage to implement it. Whenever we had a problem to solve we would go back to the classroom and get a bunch of brains to figure it out – it was a huge group activity."
Lewis says that after giving up many weekends and putting in hundreds of hours, they were able to turn the Model T from a gas guzzler to an electric-powered green machine… perfect for trips to the ice cream shop or to the Rhode Island State House to lobby for renewable energy.