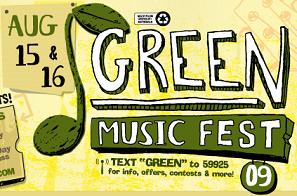 This weekend's Green Music Fest in Chicago will be running on a green fuel… biodiesel.

The Chicago Tribune reports that the inaugural event will combine earth-friendly practices, such as using biodiesel to help pump up the jams, with some great music:
In its ambitious first year, the local festival, staged Saturday and Sunday in West Town's Eckhart Park, aspires to be a must-see, high-quality musical event produced through means as eco-friendly as possible. Food vendors, retailers, energy, everything at Green Music Fest must meet strict requirements set forth by the West Town Chicago Chamber of Commerce, which partnered with the Chicago Center for Green Technology to keep things legit. Biodiesel fuel-operated generators power the amps; eco-friendly food vendors provide the eats; composting and recycling stations absorb the trash; and a bike valet station fosters environmentally responsible transportation. Even the fest's signs and banners will be recycled as accessories.
Organizers characterize the music as "more hip than hippie," with art-rockers London's Art Brut and Memphis country-rockers Lucero heading the line-up. Check out the Green Music Fest Web site for more information.