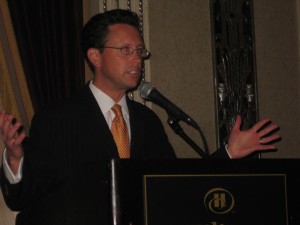 "We must leave oil before oil leaves us." Wise words from Brian Jennings, the executive director of the American Coalition for Ethanol during his general session presentation at the 22nd Ethanol Conference & Trade Show. We need to progress from short-term day to day crisis management to thinking long-term strategy, continued. Jennings. "We need to unite."
A major theme of the conference delivered by both Brian as well as the other speakers and attendees was the need for the ethanol industry to unit. "We need to focus on things we have in common rather than focusing on differences. We can get more done. Only we can defeat ourselves," said Jennings.
"We put way too much emphasis on who's better. Who has better ideas. We need to put less emphasis on the me and put more emphasis on doing the work."
Jennings also spoke about how the industry is really trying to make gasoline the alternative fuel, but that the industry needed political courage to change the status quo. He also encouraged the industry that the days of profitability are coming back, but if the blend wall isn't increased it could be devastating– there is more capacity than demand. "We have to focus with laser like attention to creating more demand for ethanol."

In closing, Jennings said, "We need to renew, unite and have the determination to succeed." Well said.
You can see photos from the event in our Flicker photo album.