So you're reading my blog post so you've made a step in the right direction to get the news on ethanol, but did you know that you're only scratching the surface of knowledge? You can get more involved than ever in the ethanol industry without ever leaving your couch. You can "Join the Conversation" with all of the great tools that the American Coalition for Ethanol (ACE) offers.
Here is a peak at what you might be missing: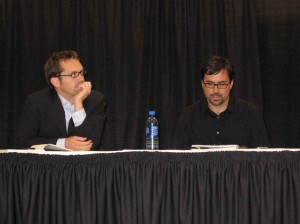 You may notice a "Social Media" theme here which is still new to many in the biofuels industry. One of the sessions, "Strategic, Advocacy and PR in the Era of New Media" was a great first step for attendees to learn how to get into the game. The panel included Kristin Brekke and Shannon Gustafson, with ACE along with Jeremy Bird, Organizing for America and Greg Veerman, Astronaut Studios. If you missed the session, check out ACE's YouTube channel where they have several of the conference presentations or you can reach out to anyone of the speakers, or even our very own team here at DomesticFuel. And if this isn't enough to keep you busy, check out my Flicker photo album from the conference.