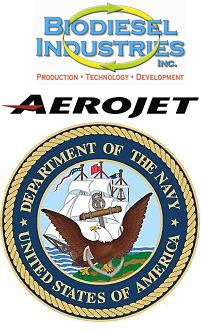 The U.S. Navy is working with Biodiesel Industries and aerospace and defense company Aerojet to develop a high-tech, remote-controlled, automated, portable biodiesel production unit.
This story from Biodiesel Magazine says the project at the Naval Facilities Engineering Service Center in Port Hueneme, Calif. will called ARIES… Automated, Real-time, Remote, Integrated Energy System:
With the resources and modus operandi of the U.S. Navy, along with Biodiesel Industries' 10-year biodiesel production database, ARIES utilizes Aerojet's systems control technologies to provide real-time sensing and management of important processing and chemical parameters, resulting in automation of the entire process. Biodiesel Industries stated that this enhances yields, makes quality control more reliable, and assures safety of personnel. This remote sensing also allows for monitoring and operation from one control center for multiple biodiesel processing centers located anywhere in the world.
Russell Teall, president and founder of Biodiesel Industries, said Aerojet and the Navy are perfect partners in this project. "For the past 15 years we've been developing proprietary technology for modular multi-feedstock biodiesel production. Combining the [Naval Facilities Engineering Service Center's] specialization in energy and environmental systems with Aerojet's history of advanced systems controls, enabled the implementation and first public demonstration of Biodiesel Industries' ARIES platform. As the world's largest consumer of diesel fuel, the implications for the Navy and the [Department of Defense] are clear."
Officials expect that if the project works for the Navy, there will be benefits for the commercial sector.