A group of Rhode Island students who drove a biodiesel-powered truck 3,000 miles cross-country last summer are showing off their latest green energy project.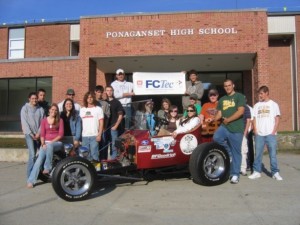 A fuel-celled powered Model T from Ponaganset High School, put together by teacher Ross McCurdy and his student, is going to be on display at GovEnergy 2009, the premier energy training workshop and tradeshow for Federal agencies, going on now in Providence, Rhode Island:
ConEdison Solutions has been involved with Ponaganset High School, part of the Foster-Glocester school district, as a result of a major energy efficiency program which has saved the district $700,000 annually and reduced its energy use by 29 percent. The company also introduced the state's first environmentally friendly biomass boiler – a wood chip gasifier system using locally-produced chips – to heat the 371,000 SF Ponaganset Middle and High Schools in North Scituate, RI.
Along with the Model T, that biodiesel truck that made the trek from Rhode Island to California last August (see my post from August 25, 2008) will also be on display.