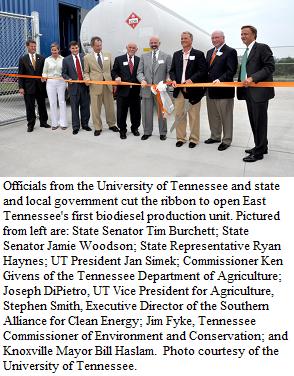 A new biodiesel plant in East Tennessee is the first of its kind for that part of the state.
This article from the Southeast Farm Press says officials with the University of Tennessee, as well as state and local officials and members of the Southern Alliance for Clean Energy were on hand for the ribbon cutting of the facility that will produce the green fuel and clean up used kitchen grease:
Built with an Alternative Fuels Innovations Grant from TDEC in partnership with SACE, the community-based biodiesel production unit aims to convert waste fryer oil from local restaurants into useable fuel. The production unit, which is located on the University of Tennessee agricultural campus, will also be a research center for other ag fuels like soybean oil and oilseed crops.
"We are excited about participating in another effort to provide the region and state with affordable, sustainable biofuels," said DiPietro. The UT Institute of Agriculture is well known for partnering with DuPont Danisco Cellulosic Ethanol to produce cellulosic ethanol from switchgrass at a biorefinery in Vonore. That plant is under construction and expected to be operational by the end of the year. "The answers to our energy problems lie in a combination of sustainable, affordable, homemade and homegrown fuels, both cellulosic ethanol and biodiesel," he said.
TDEC Commissioner Jim Fyke agreed. "Making cleaner-burning fuels more readily available while providing additional education and research capacity is an important step toward a clean energy future in Tennessee," he said. "The biodiesel production unit on the Knoxville campus will increase use of alternative fuels and create public health benefits for area communities."
When fully operational, the plant will be able to produce 380,000 gallons of biodiesel a year, fueling the university and the community and recycling the grease of at least 30 local restaurants.