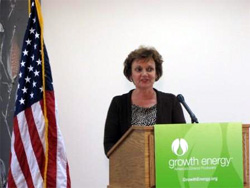 Illinois Congresswoman Debbie Halvorson yesterday voiced her support of increasing the blend of ethanol in gasoline to 15 percent. The Congresswoman, along with many other supporters, spoke at a news conference at the Illinois Corn Growers Association home office.
In March, national trade group Growth Energy submitted a Green Jobs Waiver asking the Environmental Protection Agency (EPA) to allow gasoline blended with as much as 15 percent ethanol. A rule that dates back to the 1970s arbitrarily caps at 10 percent the amount of ethanol that can be blended with gasoline. The report titled "Economic Impacts of Increasing the Ethanol Blend Limit on Top Ethanol Producing States" was released Thursday by Growth Energy. Congresswoman Halvorson announced findings of the report, "I'm proud to say that by extending the ethanol blend in our gasoline mixture to E15, Illinois has the capacity to gain over 4,000 full-time jobs and have $833 million injected into Illinois' economy. Blending higher percentages of ethanol into our gas is a step we can take right now to create American jobs, local jobs, increase our energy independence, improve our environment, and help many of our local farmers."
Gene Griffith, secretary of the Illinois Renewable Fuels Association, added, "A significant portion of the Illinois economy is based on renewable fuels, many of which are small ethanol-producing plants. By increasing the cap on ethanol blends from 10 percent to 15 percent, the EPA would enable the renewable fuels industry to grow, which would result in more Illinois jobs, a more stable economy, cleaner emissions and greater energy independence. With high unemployment in Illinois, there couldn't be a better time to implement this new plan."
July 20 marked the end of the EPA's 90-day public comment period on the waiver application. The EPA has until December of this year to decide if it will allow up to a 15 percent ethanol blend in the American fuel supply.