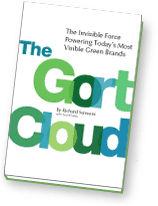 Hey all you marketers out there – listen up! This week I reviewed a book on how to successfully market your environmentally friendly product through the "Gort Cloud".  What is the Gort Cloud you ask? "The vast but invisible community that has the power to make or break green brands and much of this community and interaction is done online. The Gort Cloud is the discovery of marketing and branding expert Richard Seireeni who is the author of this week's book, The Gort Cloud: The Invisible Force Powering Today's Most Visible Green Brands.
The book consists mainly of a number of case studies from varying industries including energy, that detail the marketing and branding strategies green companies have taken to become powerful brands. Most of these brands have never used traditional advertising such as print ads and TV ads, but have used the power of public relations and the immense network of green adopters who have created communities on the web.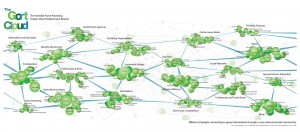 Some components of the Gort Cloud include providers, provider support, rule makers and watchdogs, advocacy groups, special – interest authorities, information disseminators, green search engines, social networks, lifestyle movements, reuse, recycle, in-person exchange, competitions, campaign and fundraisers, education and career. Seireeni talks in detail about these components and how to tap into them.
The Gort Cloud is one of the best marketing books I've read with regards to developing a green brand and marketing it. As more and more traditional media disappear and the internet becomes an even more powerful medium, this book will help you navigate the web to better reach your target audience.
You can buy this book or any book I read by visiting "Joanna's bookstore". In addition, if you have a book that you would like me to review, email me at jomschro2071@gmail.com.