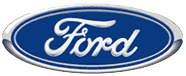 Ford Motor Company will offer four new flexible fuel vehicles (FFVS) to their line-up in 2010 totaling eleven models.
Following will be the 2010 models offered through Ford Motor Company with E85 compatible engines.
3.0L Ford Fusion
3.0L Mercury Milan
3.0L Ford Escape
3.0L Mercury Mariner
4.6L Ford Crown Victoria
5.4L Ford Expedition
5.4L Ford F-150
4.6L and 5.4L Ford E-Series Van/Wagon/Cutaway
4.6L Mercury Grand Marquis
4.6L Lincoln Town Car
5.4L Lincoln Navigator
Ford Motor Company began producing FFVs in 1995 with the Ford Taurus. They have made a commitment to allow half their vehicle line as E85 compatible by the year 2012.