The first E85 station in Coolidge, Arizona is opening tomorrow, July 31. The grand opening celebration will be held from 10 a.m. to 2 p.m. at the station location at 295 S. Arizona Blvd. in Coolidge. The celebration will include a ribbon-cutting and comments from city officials.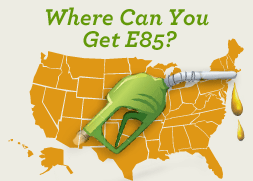 The station, opened in conjunction with Coolidge Chevron (Discovery Fuels), Pinal Energy and the Tucson Regional Clean Cities Coalition as well as the Renewable Fuels Association, will celebrate the opening by offering E85 at a discounted 85 cents per gallon for 85 minutes (from 10:30 a.m. to 11:55 a.m.). Customers will also be able to purchase pizza and soda for 85 cents during the same time period.
Robert White, Director of Market Development for RFA, said, "This is an exciting day for the consumers of Pinal County. Consumers now have a choice to use an American fuel that was made just down the road at Pinal Energy."
"Bringing a clean fuel alternative like E85 to the Pinal County consumer, being a good community partner and being a part of building a better tomorrow was important to Coolidge Chevron," said Mike Mennenga, owner of the Coolidge Chevron. "The timing makes sense given current gasoline prices and the renewed focus on preserving our environment."
To learn more about ethanol and to find E85 stations near you, visit RFA's new consumer website, Choose Ethanol. And if if you haven't already, don't forget to send in your summer vacation photo for a chance to win free fuel.