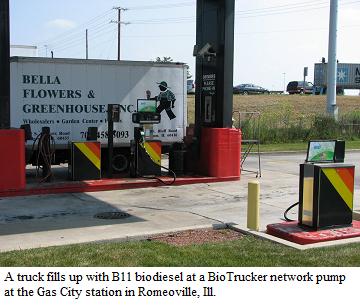 It was quite a scene today as more than 50 semis, pickup trucks and cars lined up for biodiesel at the newest stop in the BioTrucker network at the Gas City station in Romeoville, Ill.
This press release from the National Biodiesel Board says Gas City was offering off per gallon on the purchase of B11:
The B11 blend, common in Illinois, normally sells for about the same price as regular diesel fuel. BioTrucker is a network of more than 5,000 fueling locations offering trucking companies and owner-operators the benefit of purchasing fuel without a transaction fee, and at cash prices.

"The over-the-road trucking market represents 38 billion gallons of diesel usage a year," said Jess Hewitt, Chairman of the National Biodiesel Board's Marketing Committee, and President of Houston-based HYPERFUELS. "Every gallon of biodiesel they use displaces foreign oil, reduces emissions, and supports 50,000 green jobs in the U.S."
"Gas City is pleased and proud to be the newest addition to the BioTrucker fuel card network in Illinois," said Bill Schireman, Executive Vice President of Gas City, Ltd. "In 2006 we made the conscious effort to go green, and offering biodiesel to our customers helps us do that. Biodiesel offers great benefits, as a homegrown fuel reducing emissions and our dependence on foreign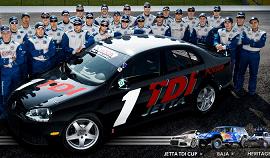 oil."
One of the first to benefit from the low-cost biodiesel was the Volkswagen Jetta TDI Cup racing series transport team. They filled up on the way to the Autobahn Country Club in Joliet, Ill. for a race this weekend. Even some of the biodiesel powered race cars from the series were at the opening today.