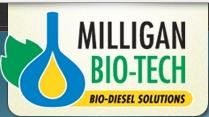 A new, 2.6 million-gallon-per-year seed-crushing and biodiesel plant has come on line in Canada.

Biodiesel Magazine reports that the Milligan Bio-Tech Inc. plant in Foam Lake, Saskatchewan is now fully operational:
According to a spokesperson for the company, the new plant is being referred to as Milligan Bio-Tech's "optimization" plant. Its production capacity is10 MMly (approximately 2.6 MMgy) and uses a process developed by Milligan Bio-Tech in conjunction with Agriculture & Agri-Food Canada and the University of Saskatchewan.
The spokesperson said previously the company was crushing off-spec, or non-food grade, canola at the site in Foam Lake and producing test batches of biodiesel off-site. Meanwhile, Milligan Bio-Tech had been optimizing its crush technology to be suited for the off-spec canola—a feedstock the company continues to use in its commercial biodiesel production.
Company officials are having an official grand opening this Thursday, July 23, 2009 at 11:30 am with a lunch, tours and even a demonstration of the world's first biodiesel jet truck – Prairie Gold.